ALVIN, Texas — Fliers that were left at several homes in Alvin had some people up in arms Tuesday night.
People up in arms about "fliers"! Not illegal immigration or crime. FLIERS!
They had the message "White Lives Matter" on them in addition to the phrase, "The Survival of the White Race is the Survival of the Planet."
A group called ARS: Voice of the Renaissance confirmed it dropped the fliers in town recently.
The group tells KHOU 11 News there was no particular reason it picked the area.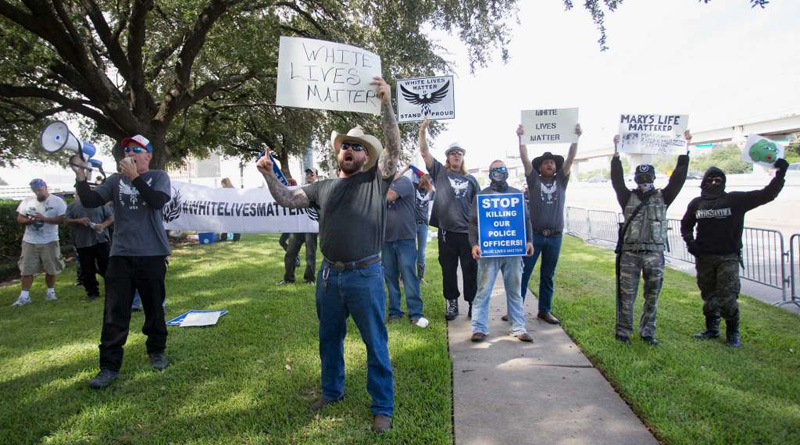 (Above) "White Lives Matter" protesters came out to oppose the Houston, ADL and to affirm being white.
"I think it's a good community. That's part of the reason we bought our house here," said Diane Dart, who bought her home in Alvin nine years ago.
But it was next to that home where she recently found the flier, happening upon it after returning from a trip to the beach with her kids.
"I can't believe people are so ignorant and hateful," Dart said. "Let's get over it. We're all just people." ["Hateful"? Show me the word "Hate" that appears on the flier.]
She posted a picture of the flier to an Alvin community Facebook page, and soon enough, more people said they too got the flier, including Deborah Mueller.
She showed us where the flier was left at the end of her driveway in a small plastic bag.
"It has nothing to do with me," Mueller said. "I was just stunned when I opened it up. Usually I just see that on TV."
In all, at least six people received the fliers.
ARS: the Voice of the Renaissance has a nearly identical flier on their Facebook page to the one distributed around Alvin. 'Nearly Identical' is a euphemism for 'different'.
"They need to go back to where they came from," Dart said. "We have a lot of different people here and I think we all like to take care of each other."
The group behind the fliers tells us it ventures out into cities and towns where it doesn't have members to try and educate "white society." They're defending themselves by saying "it is not racist to love your people and care about their interests."
Political Power for European Americans!
European peoples should organize and advance our own interests just like every other group. Join our fight for Heritage and Identity!
The American Freedom Party needs your help! Send $10, $20, $50, $100, or any contribution you can via PayPal "Send Money" to treasurer@american3rdposition.com or click here:


The American Freedom Party (AFP) supports the right to keep and bear arms. Emancipate yourself from the dinosaur Democrat and Republican parties. Join a National Party that puts America first, The American Freedom Party!

Support American Freedom Party growth and our heritage of Western civilization! The American Freedom Party is the only party that addresses issues concerning European-American communities and all Americans.

Nationalism! Not Globalism! — America First! Not America Last!
Freedom from Republicans. Freedom from Democrats. American Freedom Party! Political Power for European-Americans!
European-Americans should push back! European-Americans should abandon the Republicans and Democrats. Change your party allegiance to the American Freedom Party. A Nationalist Party that shares the customs and heritage of the European American people. We need a Nationalist Party interested in defending our borders, preserving our language and promoting our culture. The American Freedom Party is not beholden to foreign governments, special interest groups, nor Wall Street. The American Freedom Party is for America First!
---

Category: American Voice, Establishment News