Web Team
| January 22, 2020 |
no comments
Republican Texas Gov. Greg Abbott announced Friday that his state will not accept refugees in a letter obtained by the Daily Caller.
The Trump administration has given states the option to opt out of a refugee resettlement program, but Texas is the first state to announce they will not participate in the program. 18 Republican governors have already opted into the program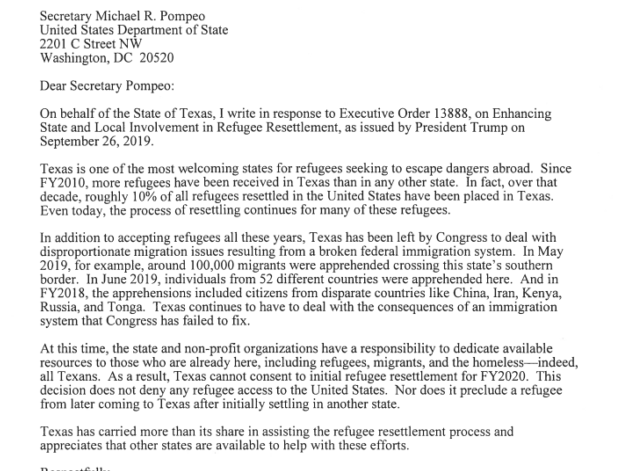 In a letter Friday to U.S. Secretary of State Michael Pompeo, Gov. Greg Abbott said the state will not allow refugees to resettle in Texas this fiscal year.
Under President Donald Trump's Sept. 26 executive order, cities and states must provide their written consent to allow refugees to resettle within their areas. Nationwide, over 40 governors have consented or signaled their willingness to allow refugees in their states, making Texas the first known state to bar their settlement.
Abbott's decision was quickly decried by refugee resettlement agencies, and it goes against the urging of Texas mayors, religious groups and state lawmakers who had pushed for Texas to continue permitting refugees.
Texas has long led the country as one of the states that resettles the largest number of refugees, a fact Abbott stresses in his letter, which was first reported Friday by The Daily Wire.
Political Power for European Americans!
European peoples should organize and advance our own interests just like every other group. Join our fight for Heritage and Identity!
The American Freedom Party (AFP) supports the right to keep and bear arms. Emancipate yourself from the dinosaur Democrat and Republican parties. Join a National Party that puts America first, The American Freedom Party!

Support American Freedom Party growth and our heritage of Western civilization! The American Freedom Party is the only party that addresses issues concerning European-American communities and all Americans. Send $10, $20, $50, $100, or any contribution you can or click here:


Nationalism! Not Globalism! America First! Not America Last!
Freedom from Republicans. Freedom from Democrats. American Freedom Party! Political Power for European-Americans!
European-Americans should push back! European-Americans should abandon the Republicans and Democrats. Change your party allegiance to the American Freedom Party. A Nationalist Party that shares the customs and heritage of the European American people. We need a Nationalist Party interested in defending our borders, preserving our language and promoting our culture. The American Freedom Party is not beholden to foreign governments, special interest groups, nor Wall Street. The American Freedom Party is for America First!
---
Category: American Voice, Establishment News