Web Team
| December 14, 2018 |
no comments
The
Washington Examiner
writes:
The number of people arrested for illegally employing or working at U.S. companies skyrocketed more than 700 percent during President Trump's first full fiscal year in office, according to government data released Tuesday afternoon.

A total of 2,304 people were arrested by U.S. Immigration and Customs Enforcement for employment violations in fiscal 2018, which ended Sept. 30.

In 2017, a total 311 people were arrested. Trump was president for eight months of that year, and former President Barack Obama was in office for four months.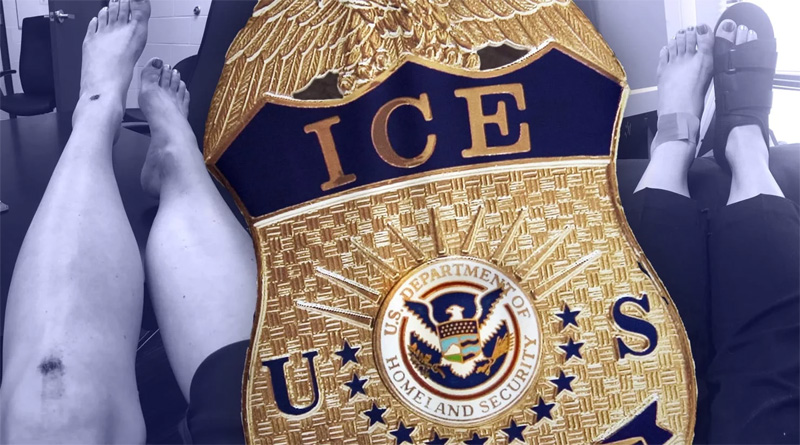 This year's figures included 779 criminal and 1,525 administrative arrests. Those numbers were up from 139 and 172 arrests, respectively. Administrative arrests are not necessarily punitive and indicate the person does not have legal documents to work in the U.S. Criminal arrests are typically for possessing fraudulent work documents or illegally employing workers.
Approximately 11 million people illegally reside in the U.S.
One of the largest busts in 2018 took place in Sumner, Texas, in August. Agents arrested 160 people on immigration violations but found many were working under the stolen identities of U.S. citizens.
An official with ICE's Homeland Security Investigations arm said the surge in arrests was the result of the Trump administration's changing the focus of the agency's mission to crack down on all illegal immigration and related crimes, not just the most serious offenses.
"Employers who use an illegal workforce as part of their business model put businesses that do follow the law at a competitive disadvantage," ICE HSI Executive Associate Director Derek N. Benner said in a statement. "These laws help protect jobs for U.S. citizens and others who are lawfully employed, reduce the incentive of illegal migration, eliminate unfair competitive advantages for companies that hire an illegal workforce, and ultimately help strengthen public safety and national security."
The dramatic uptick is the result of a directive recently retired acting ICE Director Thomas Homan issued last fall. Homan had called for HSI to follow up with employers it had reason to believe were not verifying legal documents of job applicants and their ability to work in the U.S.
"I want to see a 400 percent increase in worksite operations," said Homan, during a press briefing in Washington, D.C., last December. "We're not just talking about arresting the aliens at these work sites, we are also talking about employers who knowingly hire people who are unauthorized to work."
Still, the 2018 numbers are up significantly higher than when the Obama administration had allowed ICE to physically inspect workplaces when legal documents gave them reason for suspicion.
In 2013, when that number peaked at 3,127, Obama ordered ICE to begin only focusing on criminal offenders, not worksite violations. In 2014, total workplace probes dropped to 1,320. For the next few years, that number stayed low until Homan ordered more inspections.
The spike in arrests stemmed from an uptick in investigations and audits.
As part of the Immigration Reform and Control Act of 1986, employers must verify a hire's identity and eligibility to work in the U.S.
In 2018, ICE launched 6,848 worksite investigations — four times the rate a year earlier. It also opened 5,981 audits.
As part of these investigations, businesses and employers who are suspected of employing people not eligible to work in the United States will first have HSI officers contact them asking to turn over hiring records within three days. If the employer does not turn over documents, ICE will then physically inspect or audit the worksite for those forms. While at the worksite, ICE may arrest employers and employees found to be illegally employing or working, respectively.
Criminal indictments and convictions did not spike despite a surge in arrests. ICE said it expects those to be up next year due to the length of time it takes for court cases to proceed.
Political Power for European Americans!
European peoples should organize and advance our own interests just like every other group. Join our fight for Heritage and Identity!
The American Freedom Party (AFP) supports the right to keep and bear arms. Emancipate yourself from the dinosaur Democrat and Republican parties. Join a National Party that puts America first, The American Freedom Party!
Support American Freedom Party growth and our heritage of Western civilization! The American Freedom Party is the only party that addresses issues concerning European-American communities and all Americans. Send $10, $20, $50, $100, or any contribution you can or click here:

Nationalism! Not Globalism! America First! Not America Last!
Freedom from Republicans. Freedom from Democrats. American Freedom Party! Political Power for European-Americans!
European-Americans should push back! European-Americans should abandon the Republicans and Democrats. Change your party allegiance to the American Freedom Party. A Nationalist Party that shares the customs and heritage of the European American people. We need a Nationalist Party interested in defending our borders, preserving our language and promoting our culture. The American Freedom Party is not beholden to foreign governments, special interest groups, nor Wall Street. The American Freedom Party is for America First!
---

Category: American Voice, Establishment News