Web Team
| January 6, 2017 |
no comments
By
Hunter Wallace
Jesus Christ, I have spent the evening writing about Trump Cabinet picks, watching MSNBC and reading various articles on Alt-Lite drama, and I was completely unaware of the reaction to what has transpired in Chicago:
"FOX 32 NEWS – Chicago investigators are questioning four African-Americans after a Facebook Live video shows a group of people torturing a white mentally disabled man while someone yelled "Fuck Trump!" and "Fuck white people!"

Chicago police were made aware of the video Tuesday afternoon. A young African American woman streamed the video live on Facebook showing at least four people holding the young white man hostage.

"The video is reprehensible," said police spokesman Anthony Guglielmi.

"It's sickening. You know it makes you wonder what would make individuals treat somebody like that," Police Supt. Eddie Johnson added.

In the video, the victim is repeatedly kicked and hit, his scalp is cut, all while he is tied up with his mouth taped shut. …"
I tune out of Twitter for a few hours and was completely out of the loop.
4 Blacks in Custody After Special-needs White man Kidnapped and Tortured
Forced to drink from the toilet.
4 Blacks in Custody After Special-needs White man Kidnapped and Tortured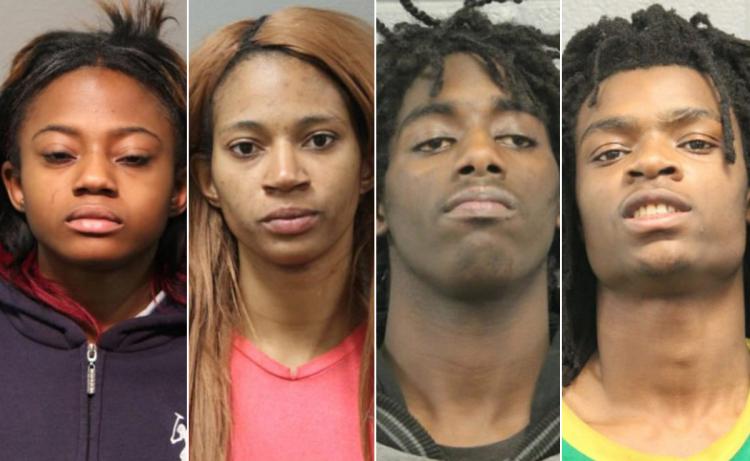 Former House speaker Newt Gingrich (R) posted in a pair of tweets Thursday that "anti-white racism has to be opposed as firmly as anti-Black racism" and that the attackers "must be punished severely enough to signal others this racist behavior is totally unacceptable."
"If this had been done to an African American by four whites, every liberal in the country would be outraged, and there'd be no question but that it's a hate crime," Gingrich said Thursday on Fox News.
Donations Pour in for Chicago Kidnap Victim Austin Hilbourn, Over 111k Raised on GoFundMe
Jan 7, 2016
A GoFundMe page has been set up on behalf of Austin Hilbourn and his family, after he was the victim of a brutal kidnapping in Chicago perpetrated by two men and two women who implied the act was racially motivated.
Austin Hilbourn is an 18-year-old "special needs" teen who was abducted last week and held for up to 48 hours by four kidnappers who repeatedly cut into his scalp, cut his cloths, kicked him and even forced him to drink toilet water, while at times yelling "F*** Donald Trump, F*** white people, boy!" The police found the victim wandering the streets and "in crisis" after he reportedly escaped from the kidnappers.
This same week is the 10 year anniversary of the Wichita Massacre.
Political Power for European Americans!
European peoples should organize and advance our own interests just like every other group. Join our fight for Heritage and Identity!
The American Freedom Party needs your help! Send $10, $20, $50, $100, or any contribution you can via PayPal "Send Money" to treasurer@american3rdposition.com or click here:


The American Freedom Party (AFP) supports the right to keep and bear arms. Emancipate yourself from the dinosaur Democrat and Republican parties. Join a National Party that puts America first, The American Freedom Party!

Support American Freedom Party growth and our heritage of Western civilization! The American Freedom Party is the only party that addresses issues concerning European-American communities and all Americans.

Nationalism! Not Globalism! — America First! Not America Last!
Freedom from Republicans. Freedom from Democrats. American Freedom Party! Political Power for European-Americans!
European-Americans should push back! European-Americans should abandon the Republicans and Democrats. Change your party allegiance to the American Freedom Party. A Nationalist Party that shares the customs and heritage of the European American people. We need a Nationalist Party interested in defending our borders, preserving our language and promoting our culture. The American Freedom Party is not beholden to foreign governments, special interest groups, nor Wall Street. The American Freedom Party is for America First!
---
Category: American Voice, Establishment News