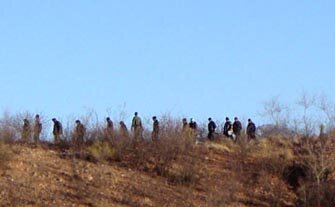 The American Third Position has just made a triple-digit donation to Arizona's Border Security and Immigration Legal Defense Fund. On July 6, the U.S. Government took this courageous state to federal court, challenging the enforcement provisions of SB 1070. The fund has raised over a half million dollars to date, most of which was contributed in the week following the lawsuit. Arizona was compelled to pass this legislation because of the federal government's dismal failure in securing our southern border.
According to the Associated Press, "the willingness of thousands of individual Americans to contribute to the Arizona fund illustrates the broad concern and frustration over border security and illegal immigration. Donors said they contributed because the federal government should be helping Arizona, not taking the state to court… Opponents say the law is unconstitutional because enforcing immigration regulations is reserved for the federal government." Folks that is like saying local police should not respond to a bank robbery call.
A3P is aiding the state of Arizona because of the critical nature of this issue. We support all constructive endeavors by private citizens, businesses, local governments – or in this case a sovereign state – to stem and reverse the browning of America. Depending on ones source, the illegal immigrant population  (primarily mestizo) here is estimated at 12-20 million. Arizona's enforcement statute represents the best current opportunity to reduce this number. From its inception, A3P has been disseminating the nightmarish facts regarding the financial, social and demographic consequences of the unprecedented invasion from the south. We encourage all those reading this piece to become part of the solution and join the American Third Position.
Category: American Voice