49 Jewish groups including the Anti-Defamation League (ADL), run by Jonathan Greenblatt, sent a letter to Joe Biden, Kamala Harris, Chuck Schumer and Nancy Pelosi urging the Democrats to put a "pathway to citizenship" for illegal immigrants "in any economic recovery or infrastructure legislation that moves forward via budget reconciliation."
The letter was spearheaded by Bend the Arc: A Jewish Partnership for Justice, and the ADL signed onto it. The letter states that, "As Jewish organizations that collectively represent millions of American Jews, we urge you to prioritize the inclusion of a pathway to citizenship for immigrant youth, Temporary Protected Status (TPS) holders, essential workers, and their families, in any economic recovery or infrastructure legislation that moves forward via budget reconciliation. . . As Jews, we are taught that each person is created b'tzelem elohim, in the divine image. Each of us is equally deserving of the opportunity to prosper in safety."
The letter argues that "Permanent protection for individuals who live under the fear of detention and deportation, as well as the constant threat of exploitation, is not just the moral action but also the most sensible choice" and "Immigrant workers and their families are vital to the fabric of our nation – it is time our government acts accordingly." What nation are they referring to? Israel?
The ADL is a driving force in pushing the suppression of free speech in America, expressing outrage at public discussion of "replacement migration," which is happening in America and which is even touted on the United Nations website. But the ADL also strongly fights against mass immigration for the nation state of Israel: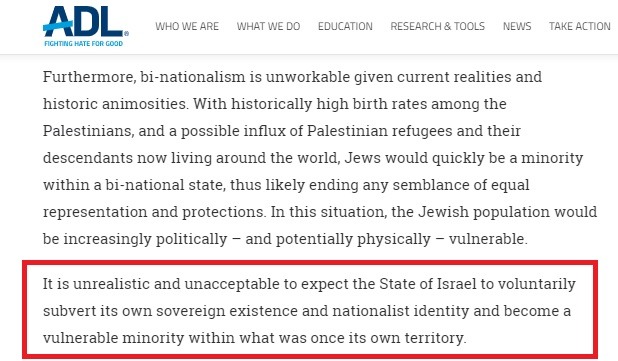 ---
Political Power for European Americans!
European peoples should organize and advance our own interests just like every other group. Join our fight for Heritage and Identity!
The American Freedom Party (AFP) supports the right to keep and bear arms. Emancipate yourself from the dinosaur Democrat and Republican parties. Join a Nationalist Party that puts America first, The American Freedom Party!

Support American Freedom Party growth and our heritage of Western Civilization! The American Freedom Party is the only party that addresses issues concerning European-American communities and all Americans. Send $10, $20, $50, $100, or any contribution you can or click here:
How can you become a member? Send a check or money-order for $32.00 (made out to: "AFP National Committee") to the address listed below:
Donate!
AFP Political Party
2585 Broadway Suite 245
New York, NY 10025

American Nationalism YES! Globalism NO! America First! Not America Last! Freedom from Republicans. Freedom from Democrats. American Freedom Party! Political Power for European-Americans!
European-Americans should push back! European-Americans should abandon the Republicans and Democrats. Change your party allegiance to the American Freedom Party. A Nationalist Party that shares the customs and heritage of the European American people. We need a Nationalist Party interested in defending our borders, preserving our language and promoting our culture. The American Freedom Party is not beholden to foreign governments, special interest groups, nor Wall Street. The American Freedom Party is for America First!
---
Category: American Voice, Establishment News